Teach while paying attention!
You often hear about new teaching competences on how to teach in an efficient way, and you often encounter this in books, seminars or articles. These highlight guidelines, suggestions, and nationals and European indications. But what are the competences that are being talked about? Why do we talk about them so much, and what are they used for?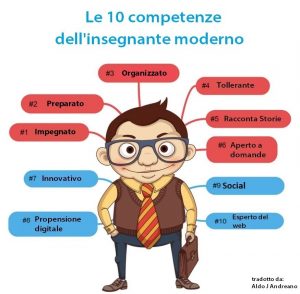 This series of articles aimed at teachers on L'Orma's blog wants to transform many abstract concepts in something very real: a teacher needs to be able to manage a classroom, master knowledge, evaluate on an individual basis and work in teams. Even if we all agree on what we need to do in theory, we often disagree on HOW to do it. The more experience you gain, the more tools you have at your disposal, and the easier it becomes to find the best solution in a particular situation. This is why we want to put at your disposal the experience we've gained over the last 18 years, working in schools and outside of them.
A modern teacher needs to pay attention to what's happening in the classroom, to how they get along with colleagues, to the different types of parent they encounter, to ministerial guidelines (national and European), to feedback coming from the work environment in which their students will need to integrate themselves, and to ongoing social and cultural change. A teacher needs to be able to diversify teaching curriculums, employ various pedagogies, create projects within their school, work well with colleagues while having a shared responsibility, organize learning for problem situations, educate students to being responsible citizens,… How many things does a modern teacher need to be able to do? How many different situations do they need to be able to handle?
Of course, teaching has always been a difficult job, but in today's world, if you don't approach teaching acknowledging the need for constant training and if you're not open to constant change, it will be difficult to experience this beautiful job with a peaceful mind. The skills a modern teacher needs to have are extremely varied and they require continuous practice. For this reason, it becomes essential to know which new competences can be put in action. Foremost, however, it becomes critical to know how to develop them.
While practicing, you will encounter many new ideas and activities that you can try out within classrooms, which will help you find serenity and gratitude in your role as a teacher.