An International Training Conference for the project "Strong Mind for Success" #SMS was organized in Sofia, Bulgaria from October 9th to 12th, 2023. This conference gave attendees from Bulgaria, Italy, and Slovenia an opportunity to improve their understanding of sports and how they affect the mental and emotional well-being of young athletes while also providing a venue for future networking events. Each of the three partner organizations—the Bulgarian Sports Development Association, L'ORMA from Italy, and Sports Association Endorphin from Slovenia—participated with six people: one project manager and five football players (aged 13 to 18) from each country. Educating young football players on mental health issues and how to use a holistic approach to their professional growth was the primary objective of the international conference #SMS.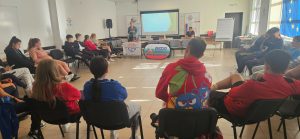 The two-day #SMS Training Conference included various presentations, discussions and activities from the experts in this field, such as:
Dimo Atanasov – Communications Specialist at Infopulse Bulgaria, former football player, and creator of the SMS project concept;
Assoc. Prof. Korneliya Naydenova, Ph.D., lecturer at the National Sports Academy "Vassil Levski," coach (goalkeepers) Bulgarian Women's National Football Team;
Assoc. Prof. Ivan Ivanov, Ph.D., lecturer at the National Sports Academy "Vassil Levski," psychologist at the Bulgarian Football Union, lecturer in psychology at the UEFA Football School;
Hristiyana Guteva – Bulgarian football and international referee, referee No. 1 among women in Bulgaria in 2018
During the training lectures and workshops on this subject, the participants actively participated and produced inspirational materials for their football-playing peers. An inspiring documentary, "A Goal to Dream," about the challenges faced by women's football in Pakistan, was viewed by participants of the International Conference #SMS.
Also, the participants were involved in a joint training session with the NSA Football Club.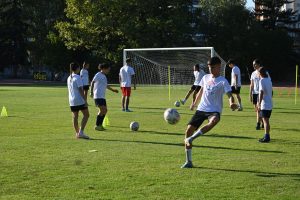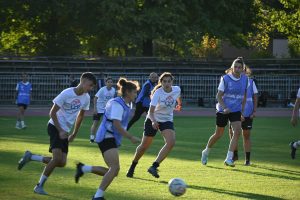 #SMS – Strong Mind for Success, is a project co-funded by the Erasmus+ program that aims to improve the ability of modern sports organizations to provide care and awareness for the mental health of young athletes. Read the article listed below for more details about the initiative.
SMS Strong Mind for Success Kick Off meeting in Sofia, Bulgaria