Michele Trapetti, one of the participants of the transitional project meeting held in Madrid last week for the project "Pickle4all" cofunded by the Erasmus Plus Program, shares now with us his experience and encourages everyone to join similar opportunities.
Here we are, the spanish open pickleball championships madrid 2021 has arrived and 4 young adventurers with a desire to learn are ready to represent "L'ORMA" in an international project. Pickleball Spain and the Alas Foundation have signed a collaboration agreement to developed a project aimed to promote inclusive sport for people with intellectual disabilities. The Alas Foundation is an organization that promotes the development of adults with intellectual disabilities by offering a variety of enrichment programs in the areas of sports and leisure, psychosocial activities and occupational therapy.
The European Union through their program Erasmus + has awarded a project to Pickleball Spain with the support of Alas Foundation, aimed to promote Pickleball as an inclusive sport in different European countries. This project is a great milestone for Spanish a European Pickleball, being the first Pickleball project approved and funded by European Union.
The project named "Pickle4all – Pickeball is a 100% inclusive sport" has already started in Madrid and our boys will take part in a group of 10/15 young people from 3 countries from different European Union organisations, who will this days work and practice on the theme. This time is mainly aimed to promote and implement the Pickleball in Belgium, Bulgary and Italy. To do this from 1st January 2021 to the end of July 2022, we'll carry out different activities to encourage the exchange of best practices and experiences among Spain and these countries.
The welcome day was attended by Roberto Pérez, president of the Spanish Pickleball Association who immediately illustrate the program that we will face during the days, told us some informations about the International Open of Madrid and gave us sports equipment from Zcebra and WPF. Finally, official photos and the main question: what is Pickleball?
Pickleball is a mixture of elements from different racket sports, such as tennis, badminton and table tennis. It stands out for offering a dynamic gameplay and a hitting technique very similar to tennis, although unlike tennis it is played on a smaller court, with a very lightweight paddle and a perforated plastic ball. It can be played both in doubles and singles, and has some special rules such as a no volley zone 2m away from the net and the impossibility of volleying up right after a serve. These characteristics make Pickleball an easy sport to learn and practice with less technical and physical requirements than other sports such as Tennis, however, with a very fast game rhythm and with a high component of tactics and strategy. Pickleball has become a sport for everyone, regardless of age or physical condition, which is why it is highly recommended in schools for children from 4/5 to 18 years old. It is a low-frustrating, easy to learn, inclusive and fun sport.
A good awakening with hearty breakfast and we are ready to face the second day with two different clinics: the first practical, in which we develop pickleball skills and the second about the mental coaching in this sport: a mixture of theory, concepts and new knowledge to transform into skills and practice. The whole morning was dedicated to understanding the world of pickleball, rules, technique, strategies, mental routinens etc. In the afternoon we observe the single men and women competition and understand more and more what we learn during the morning.
We are ready for the third day, full of competition: on Saturday and Sunday we'll watch two different kind of pickleball, doubles men/woman and double mixed competition. In these hours all the associations have offered interesting ideas from which to organize other projects in the field of sport, each country clearly spoke about the specific topic of its territory. L'ORMA in particular wanted to focus the intervention on the development of an interesting project that would involve different realities such as schools, families, educational associations, sports clubs and experts in physical education.
The week ended with a lot of content, ideas, considerations and proposals from all the European countries; few days in which the knowledge and skills of each participant contributed to enriching the personal baggage of each individual.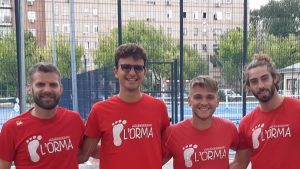 If you want to know more about Erasmus + opportunities follow us on Facebook!