IATEST Brochure
We are glad to announce that IATEST Brochure has been published.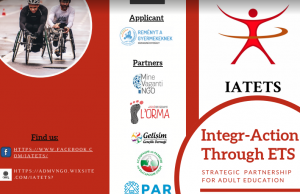 Among the others, it presents:
1)Project results:
I O 2 Manu a l o f Ac c e s s i b l e
ETS Ed u c a ti on
Manual of accessible ETS Education will
be produced in multiple languages will be
conceived for meeting the needs of
practical/ methodological orientation of
the array of operators directly engaged
in working with the ultimate targets of
the project (disadvantaged adults
affected by disability) across different
sectors (Adult education institutions,
NGOs, Sport clubs and associations).
I O 3 IATETS We b Pl a t f o r m
and Mo d u l e s
Web Platform will be developed by the
Consortium as an architecture of project
visibility and e-learning.
Specific multilingual digital modules of
education based on ETS for self-learning
by disabled adults across Europe will be
integrated in the Web Platform OERs
accessible by users through a simple
process of registration.
2) Methodology
Education Through Sport is a purposeful combination between Sport practice and Non Formal Education (NFE) employing Sport as an avenue for the development of soft/basic skills, and attitudes enhancing social inclusion and the transversal dimension of employability. As embedded in a wider frame of positive values and participatory attitudes (tolerance, mutual understanding and teamwork, self confidence, democratic spirit and solidarity) is also a potent vehicle of motivation to further learning and active participation in society.
To view the whole brochure, please visit https://hopeforchildren.hu/2020/02/21/osszefoglalo-brossura-integr-action-through-sport
Click here if you want to see all of our blog articles…