As you may know, the Erasmus plus program, one of Europe's biggest financial frameworks, has been renewed for yet another seven years. The ultimate goal of the European Parliament is to prepare the youth to measure and lift all economic social and cultural barriers which is why the budget for 2021-2027 is going to be increased.
On Tuesday, November 10th the European Commission published a press release about Europe's next long-term budget and NextGenerationEU.
The package of a total of € 1.8 trillion will contribute to a greener, more resilient and digital Europe which has been facing many challenges due to the COVID-19 pandemic. The leaders have agreed that it is an essential step to help the EU recover and support traditional beneficiaries  through programmes such as Horizon Europe, Erasmus+ and EU4Health.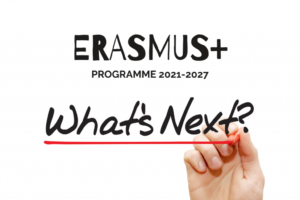 Main objectives of this compromise, among the others, aim to:
●  support modernization through policies that include research and innovation, preparedness, recovery and resilience, support fair climate and digital transitions ( 50% of the amount will be contributed to achieve such goals),
●  ensure stability and modernization of traditional policies through cohesion and common agricultural policy during crisis,
●  increase the budget to fight climate change and protect biodiversity as well as gender equality (up to 30% of the total funds),
●  finance the recovery by borrowing on the markets at more favorable costs than the others and redistribute the amounts by EU,
…What is going to happen next… 
The endorsed agreement should be now formally adopted by the European Parliament and the Council including their respective roles and procedures. Working towards final adoption of every element of the package has been declared by The Commission which remains fully committed to accompany the process. The 21-day conciliation period (when necessary negotiations on the annual budget for 2021 have to take place and when the European Parliament and the Council should reach an agreement) is due between 17 November and 7 December this year.   It appears that the European Union is turning towards a people-oriented strategy. This strategy will help smooth things over in the European society and  support local economies to recover from the crisis and hopefully evolve to the maximum of their abilities.
…What we can do now… 
In the meanwhile we are enlarging our partnership, that's why we opened a "Call for Partner" in order to find interesting reliable and active organizations to design and plan new Eu projects in the field of Education, Sport and Social Entrepreneurship.
If you are interested in developing common EU projects in the next deadlines and program, fill the Webform and get in touch with us!
https://ormainternational.eu/call-for-partner/