Europe, 22.01.2021
On Friday January 22nd , the six European partner organizations of the project 'EHPARP' – Mine Vaganti NGO (Italy), University of Thessaly (Greece), Youth in Science and Business Foundation (Estonia), Finswimming Team Komet (Croatia), Bulgarian Sports Development Association (Bulgaria) and L'Orma ssd (Italy) – had the 2nd project meeting to see what has been done so far for the implementation of the project, and to discuss the next steps.
Due to the current pandemic situation, the meeting took place online but it was anyways a fruitful moment of collaboration.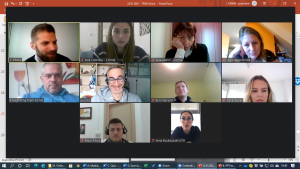 L'Orma, the project coordinator, conducted the meeting, starting with a brief recap of the objectives of EHPARP.
Then we took a look at the implementation steps that have been completed already, to move on to a roadmap of our next steps from January 2021 to June 2022.
Next, the University of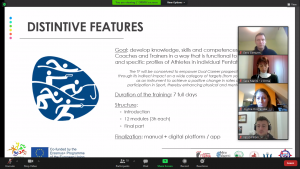 Thessaly presented the results of the research to investigate training needs regarding sport and
coaching practice.
The core of this 2nd transnational project meeting was the presentation of the training format developed by L'Orma, which will be implemented for each Pentathlon discipline by the partner organizations. The training format will be tested on a 7-day-long training, and then finalized into a
manual and a digital learning platform.
The training format consists of an introduction and a PowerPoint presentation of the sport discipline, a quiz to test the acquired knowledge, a glossary with keywords specific to each sport discipline, an anecdote or a personal experience, a video tutorial and finally an exercise book with detailed activities for trainers to carry out.
During the meeting, the six partner organizations agreed on the division of tasks:
L'Orma (IT) will focus on a general presentation of modern Pentathlon and on Equestrian Show Jumping;
Mine Vaganti NGO (IT) on leadership, group management and effective trainer-athlete communication
skills;
University of Thessaly (GR) on identification of specific skills for dual careers (athletes and trainers) and on Fencing;
YSBF (EE) on time management and Pistol Shooting; Komet (HR) on coaching skills and Freestyle Swimming;
Bulsport (BG) on Cross Country Running and organization of sport events.
Last but definitely not least, the six EU partner organizations discussed future deadlines of each aspect of implementation of EHPARP project: training format development, administration and dissemination. The meeting ended with hopeful thoughts for the future: we all wish to meet each other in person very soon, and most of all to bring this project to offline life with some great sport events!
Click here if you want to see all of our blog articles..